More evidence of "what you see happening isn't happening" from our 45th President.
By James DiGeorgia
White House Chief Economic Adviser Larry Kudlow said Thursday President Trump and China's President Xi may be able to break the logjam on issues during the upcoming G20 summit to be held in Argentina. Kudlow, however, cautioned that President Trump would still "aggressively" pursue his agenda against China if no deals were reached on intellectual property theft, cybersecurity, and tariffs on commodities, among other issues.
President Trump set up a call with Chinese President Xi Jinping that took place this past Thursday, the first conversation between the leaders in six months, and the first direct communication in almost 2 months between the two countries on trade. According to four administration officials, President Trump directed his Cabinet to draft potential terms for a trade deal after the call. His directions stressed he wanted a term that he could agree to with Xi at the G20 conference in Argentina at the end of the month.
Special: Imagine an options trading service that has delivered over 4,872% in winning trade recommendations over 11 years. That's 442% a year in winning trade recommendations. Check it out! Just $49 for the first 60 days!
It's entirely possible this new found desire to negotiate an end to the trade war despite his insistence that "there is no trade war" and all of this is nothing more than an ongoing negotiation. Given the tremendous financial losses already being incurred by U.S. farmers and business layoffs at companies like Ford and GM Trump's instance that really is no trade war is confounding and clearly untrue.
The question for investors is the economic damage taking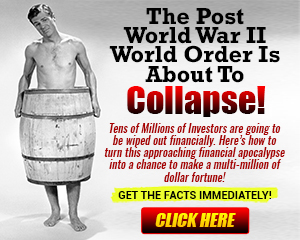 place here in the United States and around the world going to force Trump to make the kind of concessions the Chinese are willing to accept in exchange for the basket of demands being made him. Further, if Trump and Xi come to an understanding will President screwing up a deal after he agrees to it.
President Trump has a history of agreeing in principle to deals and then within a few days backing out. His critics say the trade pacts that he has so far completed, including a renegotiation of NAFTA, represent little more than incremental improvements despite making much bigger demands. Trump also has a history of making concessions to U.S. trading partners and adversaries that have drawn an intense backlash from both Democrats and Republicans.
Trump also has demonstrated a propensity for lying about negotiations in an injurious way that can be of putting for those he's trying to work deals with. He's not only made false statements about Canadian Prime Minister Justin Trudeau but bragged about his making up stuff as he negotiated with him regarding Nafta.
While Xinhua, China's state news agency, reported on Friday that President Trump had told President Xi … "he looks forward to meeting Xi during the G20 summit so they can have an in-depth discussion about some major issues." Then Trump went on, as usual, to exaggerate by saying "Those discussions are moving along nicely," and "They want to make a deal."
Referring to President Xi Trump repeated …"He wants to do it," Trump said of Xi. "They all want to do it."
There are no discussions underway, just a meeting scheduled at the G20 between the two leaders and no indication from the Chinese President of any desire to negotiate with the threat of tariffs being imposed on over $500 Billion of Chinese exports to the United States.
Trump's posture toward China has been closely watched by investors, who are looking for the possibility of tensions cooling. Even the clearly transparent mention of an end to the trade war with China helped rally Chinese and Asian stocks on Thursday.
Wall Street Rebel hopes there's a firm and lasting deal reached with China on trade as soon as possible. The recent more than 2000 point decline in the Dow Jones and tremendous volatility is a direct result of a trade war contagion that's starting to hit the world's financial markets. This instability could be exacerbated between now and the G20 meeting at the end of the month.

Special: No really, 4,872% in winning options trades, 442% a year and you can start to subscribe with a 100% No Bull Guarantee for 60 days -- $49!
The Chinese know the more damage that's self-inflicted by President Trump on the U.S. stock market the weaker his negotiating position. In addition the Chinese are well aware of the political storm in Washington should the Republicans lose control of the U.S. House of Representatives. They understand how our system works and that should the GOP lose control of the House, Trump and his administration will be facing what will seem like a never-ending series of very embarrassing House investigations that will parade a great deal of corruption, pay to play behavior and other criminality that could greatly weaken Trump's hand in negotiating with not only China but all of our trading partners now seeing the exports to the United States constructed by Trump's capricious and poorly thought out tariffs.